As growers of the hedging plants we sell from time to time we have higher quantities of a batch than we need. When this happens we make a special offer. Please note that unless explicitly stated quality of our offer plants is not lower than usual, it is just our way of moving on plants when we have too much stock. Current offers are:
Clearance offers:
- 4-4.5m tall Green Leylandii 60l pots. These are excellent quality plant with no problems at all. We do have a bit too much stock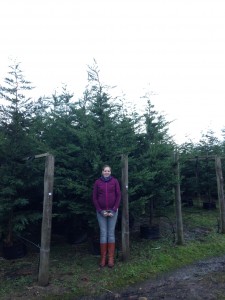 so need to move some of it on. Grab a bargain while they are available. In our experience, these plants sell quickly on offer! All plants are grown by ourselves on our UK nursery. Leylandii is an excellent hedging plant by virtue of being fast growing, dense in growth and great at blocking both sight and sound. Recommended spacing between plants 1m. Prices as follows: £95.00+VAT each on orders under 25 plants. £90.00+VAT each On orders between 25 and 75 plants.
Delivery can be arranged. Please email with your postcode in order for us to quote.
- 1-1.25m Green Leylandii 3l pots These plants are standard quality. We grow this size up to pot into the next size pot (11l) which become our 2m tall plants. We've potted all we need and now need to clear space for the next lot of 3l plants which means we need to get rid of about 300 of these little plants at a great price! Recommended spacing is 50cm.
1-50 plants £4.00+VAT each
50 plants or more £3.50+VAT each.
1.25-1.5m tall plants are also available on special offer as follows:
1-50 plants £5.50+VAT each
50 plants or more £5.00+VAT each
LIMITED STOCKS
Delivery can be arranged on a pallet. Please email with your postcode in order for us to quote.
We encourage viewings but please let us know before you turn up so that we can make sure somebody is around.
We can deliver these plants on a van and trailer. Please call or
email
for a delivery quote. Planting can also be available, just call or email for more information. Call us on 01932854135 or text us on 07552392339.
Lower quality special offers.
We are in need of clearing room on the nursery for new stock to be planted out again. Below you'll find a list of what we have available. Please do contact us (thomas@englishhedging.com or 01932854135) for any further information or to arrange a viewing. We will need your postcode to quote for delivery.- Buxus Sempervirens (Box) rootballed.
Call 01932854135, text 07552392339 or contact us by 
email
.
Why not email English Hedging, call us on 01932 854 135 or
 text us on 07552 392 339 for further information or to confirm delivery pricing.