Delivery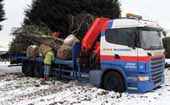 As part of deciding the best hedging solution for your needs, you are likely to ask "how do I get them to my house?" As a company we pride ourselves on being able to be flexible round your needs and desires. If you want to come and collect plants we are very happy for you to do so and will load you up. If you wanted to have your hedging delivered, we can do that too— our delivery service covers the whole of England, Scotland and Wales, and we can also deliver to Ireland and Western Europe (France, etc). We don't make any money on the delivery as we are concerned to keep the cost down as low as possible for our customers. We use two main delivery methods for our hedging stock. Please send us an enquiry including your postcode and what plants you are interested in, and we will see what options are available to you.
Pallet delivery is the main way in which we ship plants that are under 6'6'' tall. We can put 25 11 litre plants on a pallet and 12 45 litre plants on a pallet. Pallet delivery usually takes 3 days from dispatch though an express option is available for an extra cost. Costs start at £30.00+VAT per pallet. If you want an exact quote for delivery please send us an email, or give us a call, and let us know your postcode along with information on the quantity and size of plants  you want.
For plants that will not fit on pallets we use a trusted local delivery firm. We have been using the firm for a while now and they are the best at carefully bringing your trees to you in the very best condition. We are able to arrange transport for any of our plants and cost will depend on your postcode. When we are using this delivery company there is sometimes the possibility of doing a part load which would reduce the cost of your delivery. With this delivery method we are able to deliver next day very often though if you were looking to find a part load then you may be waiting for longer till we can find you a suitable option. Please email us with your postcode and information on what plants (height and quantity) you are looking for and we will get back to you as soon as possible with a price.
Planting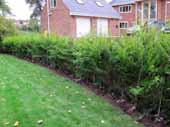 Over the years we detected a requirement for a planting service. Although primarily growers, we know all about how to plant, and are happy to quote on jobs. Because we know how the plants work and what conditions they best grow in, we are able to give your plants the best head-start they could ever receive. Planting cost will most often include the cost of staking and the relevant fertiliser for your plants. Also included in the price of planting is free after planting consultation and advice on your hedge. This after care is one of the things that makes us unique, we have even continued to give support to some customers for over 4 years, though, of course, at this point the hedge was well established!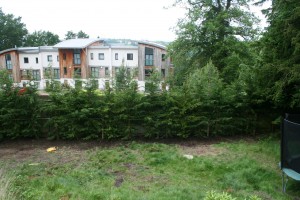 In order to quote for planting we will need your location (postcode), what you need planting, some pictures of the site and some indication of soil types. Over the last year or so while we have been offering this service we have had many very delighted clients, impressed with the professional service received and with the knowledge and hard work of our sub-contractors. If you are interested in seeing what our customers say about us please visit our 'customer comments' page. To get a quote for planting please email the relevant information over to us at info@englishhedging.com, call us on 01932854135 or text us on 07552 392 339.